Windows Functionality Checker Description
Type: Rogue AntiSpyware Programs
Windows Functionality Checker is one of the many fake security applications belonging to the FakeVimes family of rogue anti-virus software. On the surface, Windows Functionality Checker resembles Microsoft Security Essentials. However, the resemblance stops there; Windows Functionality Checker has no legitimate security purposes or capabilities. Windows Functionality Checker is part of a popular cyber scam which relies on fake security programs that display bogus alerts and scans in order to make their prey think that their computer has been taken over by a severe malware infection.
Then, it attempts to convince the victim that these non-existent problems can only be removed with a useless "full version" of Windows Functionality Checker. This fake security program puts your computer at risk as well as your wallet and should be deleted with a legitimate, reliable anti-malware tool immediately. It is important to note that most malware does not attack alone and that the presence of Windows Functionality Checker on your computer may indicate that you have been infected with a Trojan designed to download and install malware. Malware in the FakeVimes family of rogue security applications will often be distributed through fake video codecs and freeware media applications, as well as through malicious email attachments contained in phishing email messages.
What Windows Functionality Checker Actually Do to Your Computer
Although Windows Functionality Checker pretends to run a full scan of your computer system, there is actually nothing going on in Windows Functionality Checker's authentic-looking interface. This program is merely designed to display constant fake error messages and to cause your computer system to behave erratically or poorly to enhance the illusion of a severe malware infection. Windows Functionality Checker has the capacity to close any legitimate security application that may pose a threat to its existence as well any kind of web browser, which may allow the victim to gain access to a solution for the Windows Functionality Checker infection.
Windows Functionality Checker also runs automatically whenever Windows starts up, which may give computer users a hard time when trying to remove this threat. Because of this, ESG security analysts recommend first staring up Windows in Safe Mode. This prevents Windows Functionality Checker from launching automatically, ensuring that you can gain access to your web browser and security software without interference from Windows Functionality Checker. Known clones of Windows Functionality Checker include fake security programs like Virus Melt, Presto TuneUp, Fast Antivirus 2009, Extra Antivirus, Windows Security Suite, Smart Virus Eliminator, Packed.Generic.245, Volcano Security Suite, Windows Enterprise Suite, Enterprise Suite, Additional Guard, PC Live Guard, Live PC Care, Live Enterprise Suite, Security Antivirus, My Security Wall, CleanUp Antivirus, Smart Security, Windows Protection Suite, Windows Work Catalyst.
Aliases
2 security vendors flagged this file as malicious.
Anti-Virus Software
Detection
Kaspersky
HEUR:Trojan.Win32.Generic
Technical Information
Screenshots & Other Imagery
SpyHunter Detects & Remove Windows Functionality Checker
Windows Functionality Checker Video
Tip: Turn your sound ON and watch the video in Full Screen mode.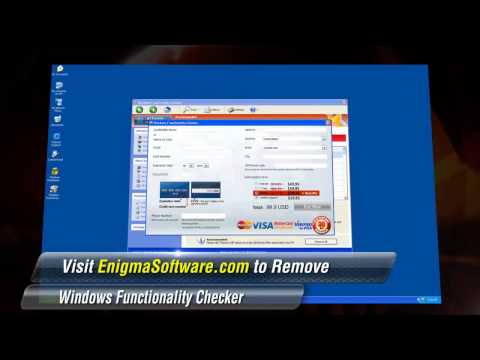 File System Details
Windows Functionality Checker creates the following file(s):
#
File Name
MD5
Detection Count
1
Protector-pma.exe
f049dfdbecd316dd36d970cb9568cb8c
3 +
2
Protector-rng.exe
c6200cf2220feb8fef9e2112496d1378
1 +
3
Protector-okv.exe
f8c41a6dcfb38a3cb28a74ba5a8430b0
1 +
4
Protector-bth.exe
19faf3d1d044bffd46a220a928d4ac00
1 +
5
%AppData%\Protector-oak.exe

N/A

+
6
%AppData%\NPSWF32.dll

N/A

+
7
%CommonPrograms%\Windows\Functionality Checker.lnk

N/A

+
8
%DesktopDir%\Windows\Functionality Checker.lnk

N/A

+
9
Protector-gqm.exe
9874377f3464e692bf0ccf043149639a
0 +
Registry Details
Windows Functionality Checker creates the following registry entry or registry entries:
Registry key
HKEY_CURRENT_USER\Software\Microsoft\Windows\CurrentVersion\Run!Inspector
Site Disclaimer
Enigmasoftware.com is not associated, affiliated, sponsored or owned by the malware creators or distributors mentioned on this article. This article should NOT be mistaken or confused in being associated in any way with the promotion or endorsement of malware. Our intent is to provide information that will educate computer users on how to detect, and ultimately remove, malware from their computer with the help of SpyHunter and/or manual removal instructions provided on this article.

This article is provided "as is" and to be used for educational information purposes only. By following any instructions on this article, you agree to be bound by the disclaimer. We make no guarantees that this article will help you completely remove the malware threats on your computer. Spyware changes regularly; therefore, it is difficult to fully clean an infected machine through manual means.