Mosk Ransomware
The Mosk Ransomware is one of the newest ransomware threats that have emerged on the Web. Much like other threats of this type, the Mosk Ransomware targets a user's files, encrypts them, and then blackmails the victim into paying them cash. Upon studying this new ransomware threat, malware experts uncovered that it belongs to the infamous STOP Ransomware family. This ransomware family has, undoubtedly, been the most active one in the whole of 2019.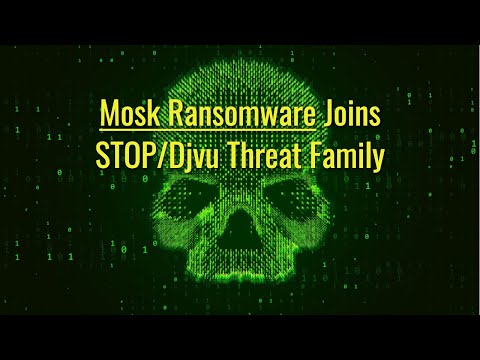 Propagation and Encryption
It has not yet been disclosed how the attackers are propagating the Mosk Ransomware. It is likely that the authors of this threat are utilizing mass spam email campaigns, fraudulent software updates, and bogus pirated variants of popular applications as infection vectors for distributing the Mosk Ransomware. Once a system is compromised by this file-locking Trojan, a brief scan will be performed. The goal of this scan is to locate the files, which the Mosk Ransomware was programmed to target. Usually, this would be a long list of file types as ransomware threats make sure to cause maximum damage to the infiltrate machine. Next, the encryption process of the Mosk Ransomware will begin. Once a file gets locked by this threat, its file name will be changed as the Mosk Ransomware appends a '.mosk' extension. For example, an audio file called 'Celtic-Eyes.mp3' will be renamed to 'Celtic-Eyes.mp3.mosk' once the Mosk Ransomware has applied its encryption algorithm.
The Ransom Note
When the encryption process has been completed successfully, the Mosk Ransomware will drop a ransom note on the victim's desktop. The note's name is '_readme.txt,' which is a trademark of the STOP Ransomware family. In the note, the attackers say that the ransom fee is $980, but all users who contact them within 72 hours will only have to pay half the price, meaning the ransom fee will be dropped to $490. To prove to the victims that they are capable of helping them recover the locked files, the attackers offer to unlock one file free of charge. The authors of the Mosk Ransomware demand to be contacted via email – 'salesrestoresoftware@firemail.cc' and 'salesrestoresoftware@gmail.com.'
Malware researchers warn against getting in touch with cyber crooks like the ones responsible for the Mosk Ransomware. These are unscrupulous individuals who will take your money gladly and may never provide the decryption key they promise. This is why, instead, you should use a reputable anti-malware solution to remove the Mosk Ransomware from your system once and for all.