Qsearch.com Description
Qsearch.com is a fake search engine that is linked to a very dangerous browser hijacker. The vast majority of visitors to the Qsearch.com website visit these websites because they have become infected with a browser hijacker related to this fake search engine. By forcing its victims to visit the Qsearch.com website, Qsearch.com-related browser hijackers allow criminals to profit illegally from pay-per-click schemes, affiliate marketing, and advertisements. Qsearch.com also acts as an intermediary between one kind of malware infection and other more dangerous potential malware threats. Because of these reasons, ESG security researchers consider that the Qsearch.com website is extremely dangerous, posing a severe threat to your computer system's safety and your personal information's security. If you are visiting the Qsearch.com, there is a high probability that your computer system is already infected with the Google Redirect Virus and the ZeroAccess rootkit. These dangerous malware threats pose a significant risk to your computer's security and greatly interfere with your computer's normal operations.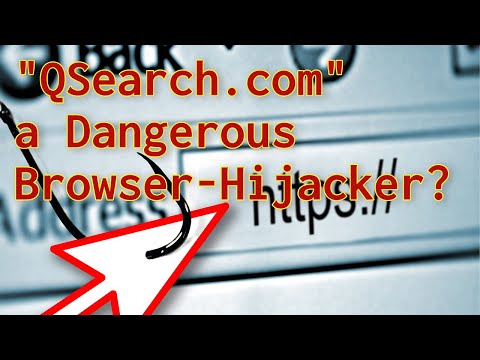 Dealing with a Qsearch.com-Related Malware Infection
If your computer has had any contact with the Qsearch.com, it is essential that you scan your hard drives with a legitimate, fully-updated anti-malware program. Disinfecting your computer should be your top priority. It is recommended to attempt to remove Qsearch.com-related malware in Safe Mode, to make sure that any potential self-defense mechanisms of this kind of malware do not have a chance to activate. In case of a ZeroAccess rootkit infection, your regular anti-malware utility may not be able to remove Qsearch.com-related malware from your hard drive. In these cases, a specialized tool for rootkit removal may be necessary.
Symptoms of a Qsearch.com Browser Hijacker
If your computer system is infected with a browser hijacker associated with the fake search engine Qsearch.com, you will probably see some or all of the following symptoms:
After entering a search into a search engine (such as Google, Bing, or Yahoo), the top results will take you to the Qsearch.com website instead of to the correct location.
Your Internet browser's homepage will have been changed to Qsearch.com without your authorization.
Your Internet browser will display pop-up windows and advertisements.
While browsing, your Internet browser will take you to Qsearch.com at random intervals.
After entering any address into your Internet browser's address bar, Qsearch.com will take you to the Qsearch.com website instead of to your destination.
Related Posts