This week, the SpyHunter malware research team has highlighted a weekly roundup of common and critical malware threats that are currently affecting computers around the world. Take a look at this week's report and stay ahead of trending malware threats!
This Week in Malware Video
This episode discusses the following topics: The threats messages of ReceiverHelper Adware, LQQW Ransomware, and the P2P site "1337x.to" flood Mac computers with ads.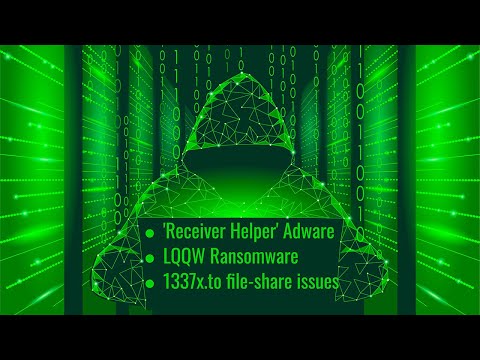 Malware Security Alerts of the Week
 

Poshukach.com
Poshukach.com is a misleading search engine site that may lead computer users to unwanted content or additional offers for products and services through accompanied advertisements. Read more

 

 

Great Discover
Great Discover is an adware threat that may lead to mining cryptocurrency utilizing the infected computer's resources thus causing the system to potentially crash or use a large amount of energy. Read more

 

 

SkilledInitiator
SkilledInitiator is a program that may be loaded through potentially malicious sources on the Internet. SkilledInitiator may cause Mac computers to load pop-ups or alerts, or site redirects to unwanted sources warranting removal. Read more

 

Guer Ransomware
Guer Ransomware is a threat from the Djvu/STOP family of threats known for an aggressive approach to encrypting files on an infected system and demanding a ransom payment from $490 to $980 to supposedly restore the encrypted files.. Read more
This Week's Most Interesting Computer Security and Malware News