This week, the SpyHunter malware research team has highlighted a weekly roundup of common and critical malware threats that are currently affecting computers around the world. Take a look at this week's report and stay ahead of trending malware threats!
This Week in Malware Video
This episode discusses the following topics: The STOP/Djvu Ransomware threat gets a new EDFC Ransomware variant, the file sharing site Linkvertise.com could expose users to malicious content, and the "DNS Server Isn't Responding" error prevents users from accessing websites.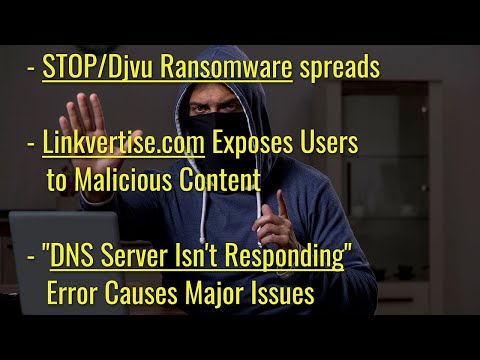 Malware Security Alerts of the Week
 

ReceiverHelper
ReceiverHelper is a potentially unwanted program that may lead to the loading of unwanted adware or alerts offering various features for supposedly improving the search feature of web browsers or search sites.. Read more

 

 

Edfc Ransomware
Edfc Ransomware is a newer variant of the STOP/Djvu Ransomware family of threats that is known for its aggressive nature of attacking a system only to demand a ransom be paid to restore files it has encrypted. Read more

 

 

OperativeEngine
OperativeEngine is a browser hijacker that could easily modify Internet settings on a Mac computer where its browsers will load unwanted pages or cause redirects to sites that have questionable content. Read more

 

Linkvertise.com
Linkvertise.com is a website that is known for file-sharing services but has recently been found to be a culprit having malicious content and leading computer users to malicious files and serious threats that may be installed from random downloads. Read more
This Week's Most Interesting Computer Security and Malware News
Screenshots & Other Imagery
Malware Security Alerts Weekly Report for September 12 - September 18, 2021 Screenshots