Malware Security Alerts Weekly Report for October 17 - October 23, 2021
This week, the SpyHunter malware research team has highlighted a weekly roundup of common and critical malware threats that are currently affecting computers around the world. Take a look at this week's report and stay ahead of trending malware threats!
This Week in Malware Video
This episode discusses the following topics: Warnings of how ERMAC banking Trojan horse has targeted over 378 legitimate Android apps, the Doydo Ransomware threat joining the Babuk family of ransomware threats, and the discovery of FoggyWeb malware being associated with the Advanced Persistent Threat group NOBELIUM.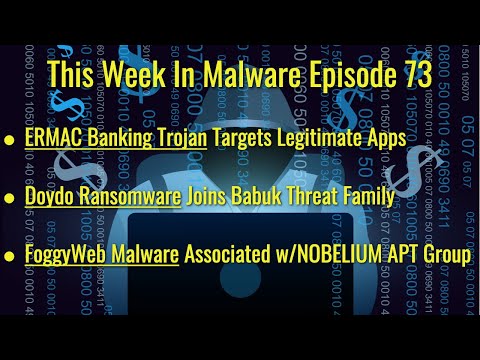 Malware Security Alerts of the Week
Irjg Ransomware
Irjg Ransomware is from the STOP/Djvu family of threats all known for seeking files on an infected PC and encrypting them just before delivering a ransom note that demands payment for unlocking or restoring the same encrypted files. Read more

Nqsq Ransomware
Nqsq Ransomware is another threat that encrypts files and extorts money from victimized computer users. The actions of Nqsq Ransomware are similar to the STOP/Djvu family of threats as it was found to come from such a threat family of malware. Read more

Loki Locker Ransomware
Loki Locker Ransomware is a vicious malware threat that may load from opening a malicious spam email attachment where it may encrypt several files and hold them for a ransom payment that is demanded through an alert message that locks up the infected system. Read more

Bloody Stealer
Bloody Stealer is a specialized type of malware that is designed to steal data on a compromised or infected PC. The actions of Bloody Stealer may take place in the background and send collected data to a remote hacker leading to potential identity theft cases. Read more
This Week's Most Interesting Computer Security and Malware News
New Bill Seeks to Force Ransomware Payment Disclosure
The US Government has stepped in to ramp up efforts to slow the proliferation of ransomware by issuing a bill that looks to force ransomware payment disclosures, which by design will regulate ransomware payments and those hackers/cybercrooks who collect such payments. Read more