This week, the SpyHunter malware research team has highlighted a weekly roundup of common and critical malware threats that are currently affecting computers around the world. Take a look at this week's report and stay ahead of trending malware threats!
This Week in Malware Video
This episode discusses the following topics: How Loki Locker Ransomware has joined the STOP/Djvu threat family, how Irjg Ransomware cheats PC users out of money if they want encrypted files restored, and how Searchanytimeyoulike.com causes unwanted site redirects using the Microsoft Edge browser.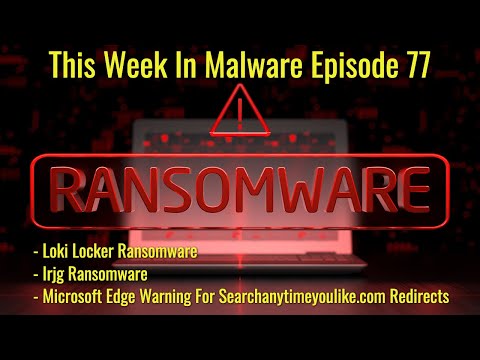 Malware Security Alerts of the Week
 

RAV Antivirus
RAV Antivirus is an older application that claims to be a security solution for PCs in detecting and removing computer viruses and other malware threats but has proven to be deceptive and a method for its creators to extort money from unsuspecting computer users. Read more

 

 

Piton Ransomware
Piton Ransomware is a threat that targets PCs only to encrypt files and demand a ransom payment form the user to restore those files. The ransom note demanding payment is named "help restore your files.txt" claims file restoration is possible but researchers recommend removal of the threat and restoring files from a backup instead. Read more

 

 

Wind Blocker Ads
Wind Blocker Ads are displays of questionable advertisements prompted by a browser extension that may have loaded when installing freeware apps or bundled software on a PC. Read more

 

ZAPS Ransomware
ZAPS Ransomware is a threat from the large family of STOP/Djvu threats, which are known for the aggressive nature of loading from a spam email attachment and then encrypting files on an infected PC only to demand a ransom from the user to supposedly restore the encrypted files. Read more
This Week's Most Interesting Computer Security and Malware News
 
Threat Actors Abuse Alibaba Cloud Services
Computer security researchers have uncovered instances of hackers abusing the Alibaba cloud services, which could lead to compromising data from the Chinese system leading to potential illegal crypt mining. Read more
Screenshots & Other Imagery
Malware Security Alerts Weekly Report for November 14 - November 20, 2021 Screenshots